Trekking in Morocco.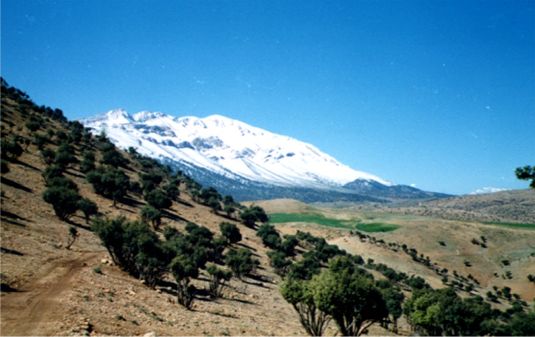 TREKKING IN MOROCCO
Beni – Mellal – The gateway to the Middle Atlas
Situated midway between Marrakech and Fez, Beni-Mellal is an ideal stop-off point for travellers. The surrounding region, with it's outstanding natural beauty will appeal to the independent traveller or small group, looking for 'off-road' trips into the mountains, on foot, on horseback or even mountain bikes.
Abderahman Tissoukla (Abdou), an official Moroccan Tourist Board Mountain Guide, has been crossing and recrossing the Middle and High Atlas and nearby areas for some years. He is not only an expert on the history, geography, geology, and natural history of this area, but is a friend or acquaintance of many of the Berber and Moroccan farmers, village and townspeople you will encounter on the way, giving you an intimate experience of this little-visited region. He has written a thesis on, and is an expert on its caves and caving. As a result of this work, he has introduced some 'unknown' caves to overseas expeditions.
As an example of a possible trek, Abdou says the two local peaks, Jbel Tassemet - 2248 m and Jbel Ghenim - 2411 m, overlooking the Plaine De Tadla, are a worthwhile challenge for first time adventurers.
In addition, there are many diverse treks and expeditions Abdou can recommend: short, medium or long distance, depending on your timeframe. His detailed knowledge of the landscape and its challenges allows him to create a tailor-made expedition for you.
If you want the experience of travelling through little-known and rarely trekked passes and hills, where the local Berber tribespeople are friendly, spontaneous and very welcoming; if you are looking for quietude, space to think and reflect, away from everyday holiday destinations; this is the place to come to.
The welcoming Berber farmers and villagers, living in homes mainly built of mud or stone, are few and far between – usually turning up just as you desperately need some dried fruits, nuts and mint tea to keep you going!. There are no holiday villages, homes or refuges in the area – mass tourism has passed it by.
The vegetation is mainly scrub and low trees, such as oak, pine trees, almond, fig and walnut and of course, orange and olive. You will come across ammonites and other untouched fossils. Take a picture but leave them where you find them for others to discover – that is Abdous' motto. He is keen to establish a vernacular tourism, encouraging you to connect not only with the landscape but with the people too.
The landscape is characteristically mountainous with escarpments and hillsides separated by steep gorges ,some with rivers running through. Although it can be very hot and dry in the Summer, it is also very verdant, with glorious green valleys, divided by streams and rivers, the fruit trees bedecked with blossom in the Spring.

This site is in permanent evolution.

You are the
nd guest since July 7, 2002.
Webmaster : michelservet-maroc@yahoo.fr